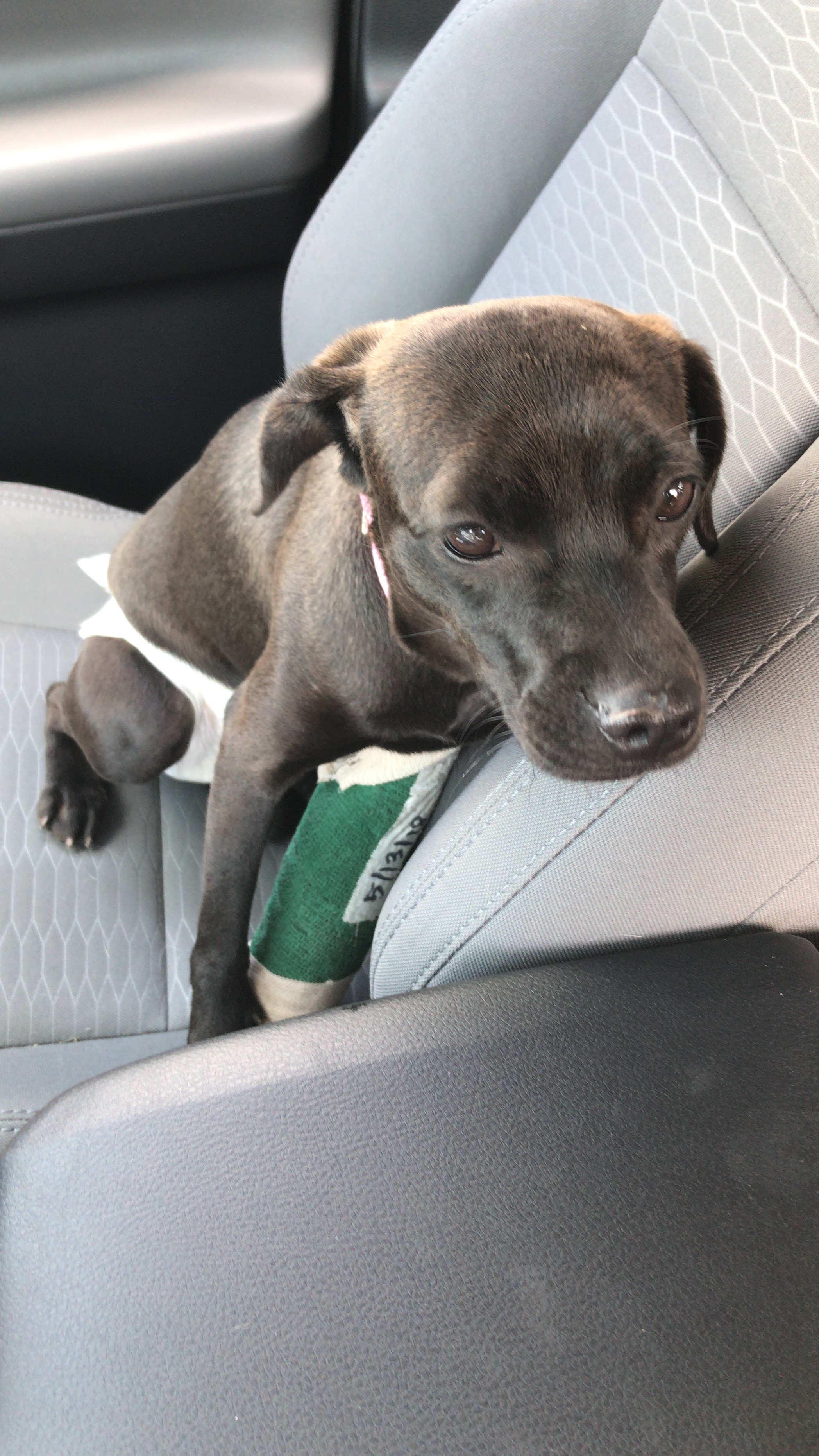 We were able to provide Brownie with top quality care and surgery from our friends over at Malibu Coast Animal Hospital, one of the best orthopedic animal hospitals in the country. After reviewing Brownie's case, Dr. Dean knew Brownie needed immediate surgery as the break in her leg was quite old. On the evening of May 14th, after 3 hours in surgery with Brownie, I got a phone call from Dr. Dean who told me as Brownie was waking up from her leg surgery, she started vomiting and then flat-lined. They did everything in their power to resuscitate her but in the end, her little body just couldn't hang on. Dr. Dean believes there was a blood clot of some sort and he said as rare as these cases are, unfortunately it does happen and the animal doesn't make it. We will be having Brownie privately cremated and bringing her home.
I would also like to mention, as soon as we brought Brownie home, she spent her entire time outside with our dogs in the back yard and lying in the sun. She kept rolling around in the grass and was over joyed to have other dogs around and seemingly, be out of the shelter. I swear she had a smile across her face the whole time. To be able to give her that gift from her time out of the shelter from when she went into the operating room, is something the HIT Living team will hold in our hearts forever.
I wanted to personally say thank you to all of you who donated and sent over your warm thoughts and loving prayers for this sweet girl. With out your support and donations, Brownie's chance at a better life would not have been possible. Here at The HIT Living Foundation, we hope this is only beginning as we know there is much more saving, rehabilitation and homing to be done and much, much more love to be given. If you would like to make a donation in Brownie's name, please click on the link below and make sure to enter "Brownie" in the comments. Thank you, peace and love, always.
Brought into North Central Shelter on May 05th as a stray, 8 month old Brownie's front left limb was visibly broken needing immediate medical assistance. After the shelter was able to study the x-rays and provide a splint and a cast, Brownie was put on medical alert as she needed further assistance the shelters are unfortunately unable to provide. We knew her odds of getting adopted from a shelter in such a state were slim, and with the North Central Shelter at capacity, Brownie's time was running out, and that's where The HIT Living team stepped in. The medical staff at North Central believe Brownie's break needs surgery, possible amputation. We will be seeing the vet this week and will be able to determine what needs to happen with Brownie's leg. With surgery on the horizon, we need help now more than ever (as we are a new rescue) to help Brownie reach a full recovery. Bubbly, cuddly, energetic, completely un-phased by her state, and still a baby, Brownie has a full, happy life a head of her and will be available for adoption after she is altogether healed. Can you help us help her? If you are able to donate, please click the donate button below and make sure to enter "Brownie" in the comments so 100% of your donation will go to her case. Stay tuned for updates and thank you for your love and positivity toward our mission and this baby's full recovery!